We celebrate, Dan Hutňan took valuable estimation over...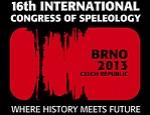 16th Internacional Congress of Speleology
 21. - 28.7.2013 in Brno is over. It was marked to be one of the most successful congress in the last 20 years by representatives. of the world speleology. Top cavers all around the world presented their discoveries in there. Not even our presentation of the expeditions in Sardinia and Mexico was missing. 
Daniel Hutnan with his colleagues got a prestigious estimation for the biggest discover in the last 4 years for the exploration in the Mexican cave system K´oox Baal.
A giant map of 4x4 metres which represent hard, aged work of Daniel´s team was exhibited at the congress too... 
Next estimation we obtained was for mapping of the Bue Marino system in Sardinia by the expedition teams at the Cartography salon.
www.speleoaquanaut.cz